…And a happy new year!
The 2018-2019 school year officially opened on October 14th, but we've prepared a glimpse of the behind-the-scenes of what's really going on.
Welcome, new students at Tel Aviv University! You'll now join 26,724 men and women who've chosen to investigate the unknown. We know a lot about you. For example, 55% of you are women, and your most desired subject of study is medicine (3,392 female students), whereas the men among you prefer to study engineering (2,847 students). And yet, in spite of this, the faculty the majority of you have chosen is the Faculty of Humanities (4,987 students).
The oldest student currently studying at the university was born in 1926, while the youngest among you is only 13 years old! You come to us from all corners of Israel, and from all over the world as well. 29% of university students come from different continents of the globe. If you want to meet the only student from Syria, go to law school. You'll find the student from Mongolia at the Faculty of Engineering, and if you want to try to find a date on campus, you should look for the students studying neuroscience. 95% of them are single.
While you will arrive on campus on October 14th, the preparations for your arrival are already underway.
Pre-order test tubes
Students and professors at TAU laboratories use all kinds of tools in order to conduct their experiments. From modern electrical and digital devices to test tubes, containers, auxiliary tools and measuring devices. We write quite often about the university's advanced laboratories, and they are truly leaders in their fields and equipped with cutting edge equipment. But there are things that need to be done old school, and that will probably never change.
Not too many people know this, but in the basement of the Orenstein Building of the Raymond and Beverly Sackler Faculty of Exact Sciences, lies David Gabbai's kingdom: TAU's glass-blowing workshop, which has produced, with the help of a live flame, various and complex laboratory tools for 30 years.
You could say that Gabbai is an expert in his field, but also has an excellent understanding of anatomy and physiology. Researchers from all over the campus visit him to commission various tools and even glass models of human body parts.
What is the most complex tool you've created? "I prepared a glass model of a human heart, with blood vessels and everything, to help researchers find out why, sometimes after coronary bypass surgery, blood flow in the arteries is blocked. I prepared the tool without stencils or molds, with my own hands, while heating the glass in real time."
How long does it take you to prepare a tool? "The simple jobs like test tubes, for example, are made in less than an hour, but there are projects that take a full day's work, sometimes even a day's work for two people, after the researcher explains what he needs, I plan the production process. I have to take into account the temperature the tool will have to withstand, the thickness of the walls, the system of pipes, and what will be used as a closed or open system," he explains. "In any case, I always start with what is inside."
Watch David Gabbai during the glass blowing process:
Going up a grade
This year, a new generation of promising new lecturers, whose academic path has led them to TAU, are beginning their year in the auditoriums, classrooms and laboratories, about to take teaching methods a step further. One of them is Dr. Ben Maoz, who will join the Department of Biomedical Engineering at the Ivy and Eldar Fleischman Faculty of Engineering.
What is your biggest challenge? "To attract the students back to the classrooms. Today, when the information is accessible in online videos and podcasts, many students believe that it is not necessary to attend classes. Academia needs to be relevant and innovative, and move forward with technology and teaching methods."
What are you going to do differently? "Over the past year, when I teaching introductory courses in chemistry as a doctoral student, I tried to get to know the students and to understand what they expect from the classes. It's clear that we are expected to deliver the material at the highest level, which is why we work hard to create innovative new courses. For example this year, we'll be teaching a course simultaneously at TAU and at the prestigious KI and KTH universities in Stockholm, and the lessons will be broadcast live in both countries, and the students will get a taste of how courses are taught at a university in another part of the world."
Are you nervous when facing a classroom? "From my perspective, the combination of science and research for teaching is the natural way to convey the knowledge I have accumulated, and I have always loved to teach, whether as a scout instructor, at a Jewish Agency summer camp, or as a university lecturer. I also was also part of a program for bringing science to the periphery of Israel, where we traveled and taught kids and youth throughout the country. "
What is important for you to convey to students? "It's very satisfying to see that people like what you have to give. I expect that the hard work will be mutual, that students will learn by themselves in addition to the classroom, and I strive for a dynamic in which they can ask me questions. It's a two-way street, after all. I expect them to also challenge me. "
Creates fascinating lectures. Dr. Ben Maoz
Chatting with the librarian
At the Brender-Moss Library for Social Sciences, Management and Education, preparations for the new academic year are in full swing. Don't mistake this for dusting the book shelves! We caught the head of the library, Shulamit Perry, for a brief chat in the middle of sorting through the new fabric bags that will be available for community use starting this year.
What's new in the library for the new school year? "Apart from a new library management system, which we are currently getting a handle on so that we can give students the best possible services, we have a new chat system available to library visitors for ordering books and a "straight from the shelf" service, to help people save time, where the library staff collects items for you in the library, unless they're currently loaned out. "
What about the content you offer? "It's important to us as a technologically advanced library, which provides services to researchers and students, to keep up to date with the information our visitors need. Recently, we purchased new databases and books, both in hard copies, and in electronic formats, and new software products. We are now getting used to the new management system for university libraries so that we can give students the best possible service. "
It's no secret that the library hasn't been a place where people only sit quietly and read for a while. "We are currently finishing putting together the library's annual program of activities: a wealth of lectures, exhibitions, workshops and marathons, and we are preparing for the handover of the books event, to be held at the beginning of the semester."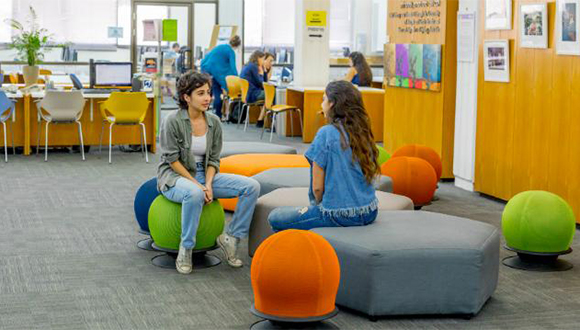 "So what did you do during the summer?" Students at the Library for Social Sciences, Management and Education
Secrets of the green
It's no accident that our grass is greener. The campus is considered a green urban area thanks to the lawns, well-kept gardens and the shaded sitting areas, which provide visitors with pleasure, and even food and shelter for the various animals who live and pass through the university grounds. The gardening department takes care of the vegetation throughout the year, giving personal attention to each flower and tree, and preparing the ground for the beginning of the school year, quite literally. Ilan Sharon, the gardening supervisor, answered our questions:
What special treatments undertake during the summer on campus grounds? "Beyond the pruning of high tops and the design of the trees, we take advantage of the summer vacation to vaccinate the palm trees against insects, and to check which trees need recovering and healing from various diseases. Recently we moved a number of olive trees from the area of ​​the Buchman-Mehta School of Music area into the Gilman building area, in a complex operation. I can tell you that today they are already blooming. "
What special flowers can we find on campus? "We plant seasonal flowers twice a year. In the early days of the school year you'll be able to see the gardening staff planting bulbs of anemones and daffodils, which will paint the well-kept lawns and gardens with a wildflower carpet when the weather gets colder. It gives the campus an impressive look. "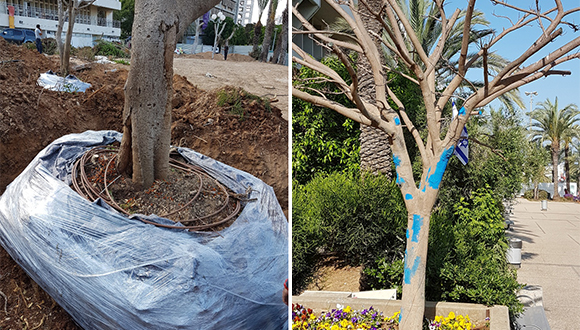 A tree with therapeutic ointment on it and a tree that was moved into a new neighborhood
Relaxation corner
If you're very excited and feel that all the pressure at the beginning of the year will only get worse with the combination of classes, tests and work, we want to introduce you to a very relaxing corner, next to the Broshim dormitories, right nextdoor to the campus. This is the Broshim School of Supplementary Medicine, where the recently graduated students will be happy to treat at an affordable price. Treatments in Chinese medicine, Shiatsu Twina, physical psychotherapy and various massages will help you cope with stress, attention disorders and various problems, and will help you explore and succeed in your studies and life in general.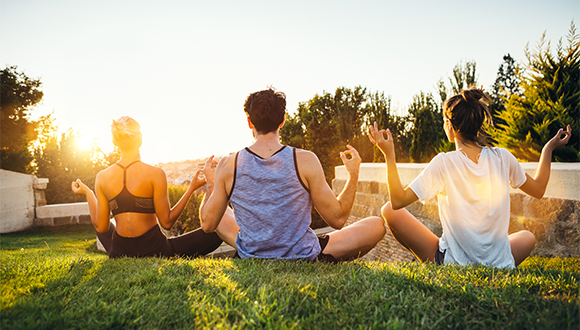 Extend and appreciate yourself. Tension class on the Broshim campus